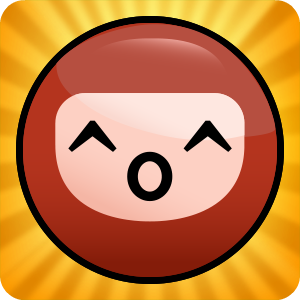 Recommendation: (4 out of 5) A good game that keeps on getting better with every update.
Pros: Lots of levels, nice graphics and sound effects, regular updates by the developer and  includes a free trial.
Cons: Occasionally lags on the Nook Color.
Don't fall a asleep in a pinball machine, kids.  Else, you might get slapped around in Pogz 2, Terry Paton's latest game for the Nook.  Pogz 2 came out on the  in early November for $0.99US (as well as other Android markets and iOS).  In the game, the adorable Pogz have fallen asleep, and you have to wake them up to save them from, well, death.
In the game, you essentially throw a pinball at the Pogz, and each one you hit wakes up.  If
the ball falls down to an enemy at the bottom of the screen, you lose it and have to use a new ball.  In some levels, you have one or more sets of paddles, like a pinball machine, which you can use to throw the ball back up at the Pogz.  In most levels, though, your main strategy will be careful release of your pinball.  And, you can use a swiping motion to move your pinball around.  The best way that I can describe this is that by swiping, you seem to create an air jet that persists for a few moments.  When the ball comes near, it will be pushed strongly in the direction of your swipe.  In my experience, it feels like you are using a set of powerful air jets to push a pinball back up through the Pogz and obstacles.
Patton has divided the game into 9 stages, 3 of which were available in the current version of Pogz 2 on the Nook (all 9 are available on Google Play, and I expect that update will be live on the Nook soon).  Each stage focuses on a different character (Pogz, Pugz and Pigz for the first three), and later stages introduce new types of obstacles (such as exploding blocks).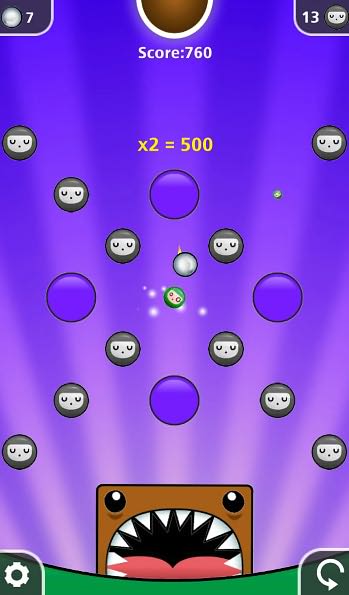 Paton has been adding a lot of content to the game, and when all of the stages go live, you'll have over 200 challenging levels in the game.
Pogz 2 also includes a free trial, if you're not quite ready to part with your dollar.  The trial is limited to 5 minutes of play, which you can reset by restarting the game (but you'll have to start over).
Overall, I thought Pogz 2 was a lot of fun, and kid friendly.  The look and sounds of the game are very cute, and give the game a fun spirit.  I did feel that at times the swiping mechanic could interfere with the game experience.  I sometimes found myself (in early levels) frantically swiping across the bottom of my screen to keep a jet of air going, so that I would never lose my pinball.  Perhaps it is just my level of skill, but in some of these levels, it felt more that I was beating on the game than mastering it.  But, I did feel that in the later levels, skill and precision were rewarded.
Bottom line: Pogz 2 is a fun game, and benefits from a devoted developer who has put a lot of effort in to getting new content into the game.  Grab a copy, or grab the free trial, and smack around some Pogz today.  After all, it's for their own good.
Pogz 2 is on the Nook, Google Play and iTunes.